A Few Things About Us
We love education & technology:
MySENCARE
is located in Barkingside, Essex. We're a small, extremely-talented team of engineers & teachers (like you) working hard to support children in school. We set
TeachingBlogsOnline.com
as a Free service to help teachers share, contribute and learn from each other through blogging. One of the worlds most powerful communication tools!
What else do we do?
We make
inclusion software
. We've been working and supporting SENCO's, Inclusion Manager's, EMEA staff and classroom teachers for the last 12 months creating a software package that actually works and supports
personalised learning
. We are on a mission to support teachers bring out the best in pupils by meeting thier indivdual learning needs!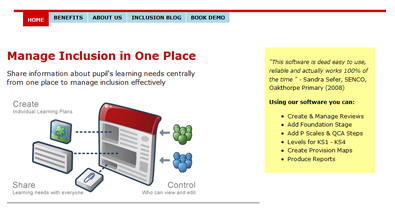 Our aspirations:
We want to make a difference in education - we want to inspire youngsters to excel, make something of themselves to live better. In order to do this, we want to provide teachers with the best possible tool to support them meet the learning needs of every child they teach. Thats the plan!